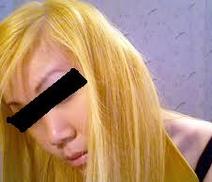 I have no expectation of never getting another request for changing someone's color from jet black to platinum blonde in one shot and under 2 hours if possible by writing this article, but if this post helps eliminate an unrealistic expectation of even one client and prevents a possible color disaster I will consider it a valuable contribution.

Celebrities drastically change their hair color seemingly overnight. It is easy to assume that because Rihanna's hair is black one day and blonde the next yours can be too and effortlessly.

Dark colored hair can never be turned into light blonde hair in one shot without it becoming really brassy and extremely damaged. If your hair has been repeatedly colored or exposed to heat or chemicals like relaxers or perms, not only will it become brassy (read orange) from bleaching, it will melt off too.

Is it possible to lighten the hair from dark to blonde without it becoming brassy? No. Dark hair is loaded with red pigment, that's what makes it turn orange. Toners which are used to neutralize orange hair have only limited ability to help when hair is stuck in the orange stage.

The safest way for you to go from dark to blonde is to get highlights. Even then, your highlights may turn strawberry blonde at best and copper red at worst.

In situations where a client relaxed their hair, permed it or exposed it to heat repeatedly (flat irons, driers), they will have to slowly grow their virgin hair out before they can safely touch it with bleach.

Another factor to consider is that once you decide to bleach your hair, it will be so damaged that you will have to spend a tone of money on conditioning masks and leave-in conditioners. The entire process will probably cost you more than you thought it would.

So how do celebrities do it? They rely heavily on hair extensions. Celebrities do a lot to their hair because of the nature of their work, but they can also invest in the highest quality hair extensions to mask their damaged hair. Also, they spend a lot of time in the chair when undergoing a color change, way more than you would be willing to and they can easily afford to pay for a pricey service like that.

Do your hair a big favor: listen to your stylist's words of caution and never lie to them about your hair history. Do not omit any information, because chemicals don't lie and your dry, broken off hair will testify to everything you have ever done to your hair before you had it bleached.

If disaster already struck, here are some products I would recommend to help bring your hair into a better condition: Loreal Nature's Therapy Mega Moisture Deep treatment combined with Mega Smooth Unfrizz Taming Creme. Also It's A 10 Miracle Hair Mask combined with It's A 10 Leave In Conditioner. These products will not make your hair feel like it did before it got damaged by bleach but they will improve the condition of your hair significantly. There are many other products on the marked for damaged hair, but these two companies I recommended make great products at a reasonable price.